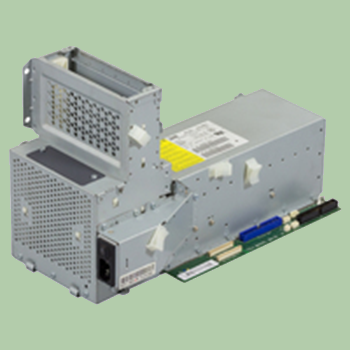 HP Designjet T1100\T610 Main PC Board w\PWR Supply
Designjet T1100 Main PCA w/Power Supply
Q6687-67010, Q6687-67013
Most common error on this part is an 08:11 service error.
Most times with this error the issue is the main pca board which includes the power supply.  Alternatively, it may be the formatter board.
The formatter plugs into the main pca board which is part of the powersupply/mainboard combo.  The power supply provides power to the main pca board which provides power to the rest of the machine.   
First you want to do is remove the formatter and clean the contacts at the bottom of the formatter that slide into the main board (probably will not resolve the error, but worth trying).  
Turn the plotter on.  
Report back the status of the 3 lights on the formatter.  When looking from the rear LED1 is the light on the left, LED2 is the middle light and LED3 is the light on the right.  
Tell me the status of each light, on, off or flashing.   Also put your hear to the back by the formatter to see if you can hear the hard disk start to spin. If you can hear the hard disk spin, I would recommend replacing the main pca board.
Available for immediate shipment here.
If you have any questions, please call me, Tom, at 260.348.5653. I am a HP Certified Technician trained to work on the DesignJet series printers since 1995.
Here is the youtube video demonstrating how to remove the Designjet T series covers and Main PCA Board.
This sale requires the return of your defective part.


OPTION #1:
I can ship immediately. SHIPPING TODAY REQUIRES A $100.00 REFUNDABLE CORE DEPOSIT.
An invoice for the CORE DEPOSIT will be emailed to your registered Paypal email address.
A pre-paid shipping label for the return of the defective part will be included in the package.

OPTION #2:
I send you a pre-paid shipping label for the return of the defective part.
When the package tracking number for your defective part is registered on the USPS website, your replacement part will be shipped to you.
 Feedback from satisfied customers:


Colin on September 24 2015

Tom was a huge help. Our IT guy said that this machine was outdated and just to buy a new  one which is around $4,500-$6,000. I reached out to Tom for help due to the 05:10 error and  he told me to replace the formatter board. Easy plug an play, less than a 5 min fix and it  is back up and running like it should for less then $300! Thank you very much Tom! 


Rob on September 23 2015 

Excellent service, prompt shipping, fair prices, plus plotter was up an running in no time,  what more can you ask for? Tom will be the first person I contact for future plotter part  purchases.


Mircea on September 02 2015 

Good price, quick service, great support. Tom was very knowledgeable and helpful in  identifying the problem and recommending the correct solution. The board worked perfectly  and our plotter was back in business in the minute following the card installation. This is  definitely the first place I'll call in the future for any problem with HP devices … 


Sharon on August 17 2015 

Tom was awesome! We needed this part right away and he went out of his way to help. We went  back and forth on the shipping method-and he was very patient for me. Also, gave us tips as  to why our cards kept getting ruined. I would definitely deal with Tom again.
Frank on August 14 2015 at 04:40PM 

This is my second purchase from Tom. Thank you for having the right parts at a reasonable price. 


Ronald on August 14 2015 

Finding the part for my hp designjet 500 was very easy to find on your site, Talking with Tom showed me what an expert he is in this field. Ordering was a dream(simple.) For action and delivery 100%. THANK YOU VERY MUCH. Ps.I have already recommended you to to my friends who can do with your service. 


Tony on May 05 2015 

This was my third purchase from this place and all have been smooth and trouble free  transactions. fast shipping and product as described. will do business again and recommend  this seller.


S. True on April 17 2015 

Tom was very helpful and worked with me to see if I would be able to put an HP-GL/2 into my  HP Designjet 500 that didn't have one installed. He sent it to me to see if it would work  and it worked flawlessly allowing me to print from a couple of our computers that haven't  been able to send a print to our plotter for years. Will definitely come back for any  future needs. 


B Bouapha on April 07 2015 

Tom was very accommodating in rushing our urgent need for our parts. We didn't need  everything and he did not have a problem accepting our return. He is ALWAYS available and  in this industry, I'm pretty sure everyone agrees that we all need HELP ASAP!! Thanks for everything Tom! 


Steve on March 27 2015 

Great service, quick shipping. What more can you ask for! Will reach out to Tom for future designjet plotter issues. 


N Enloe on March 21 2015 

Quick service, excellent follow up, card worked first time we powered up. Will definitely use again. 


Ryan on March 11 2015 

Tom is a super nice guy and easy to deal with. He explained everything to me with patience  and went out of his way to accommodate our need to have the 510 GL/2 card sent to me UPS  Next Day! Don't know if the printer is fixed yet because I just ordered the part 5 minutes  ago, but I will keep my fingers crossed. Either way, Tom was great!