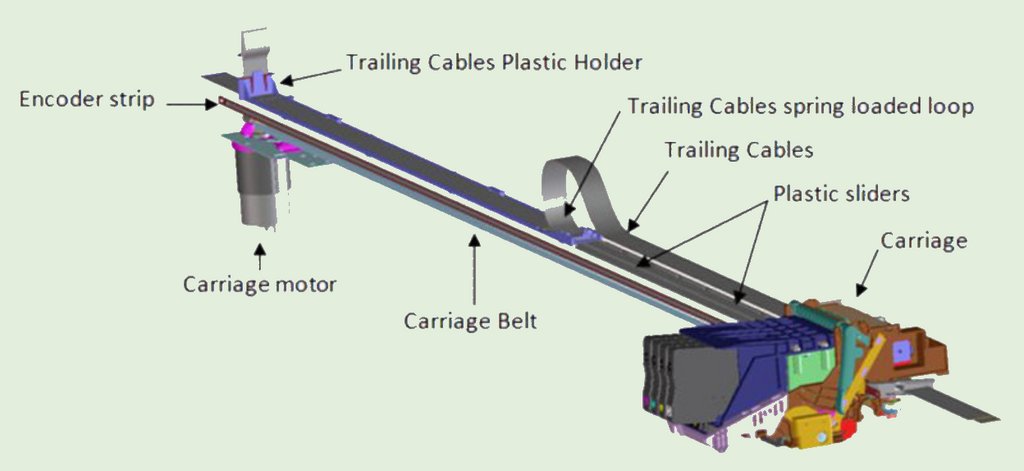 Designjet T520 36" Trailing Cable CQ893-67001 Service Manual
Video for removal of left cover to unplug trailing cable.

<

Related error codes:
0955-0050 Line Sensor error, 0042-0117 Unable to move Carriage Servo or no feedback received, 0027-00XX Carriage PCA, Trailing Cable, Main PCA
Scan Axis system: Carriage and Carriage impelling


This system moves the Carriage from left to right and right to left of the printer on top of the paper in a controlled manner to perform printing, cutting, paper detection, and any other Carriage movements for servicing and final capping process.

The system comprises the Carriage sliding on the scan axis rod, on which rotates and whose position is determined by a cam mounted on the Carriage, which slides touching the bottom surface of the anti-rotation rail.

There are two trailing cables mounted one on top of the other, which connect the Carriage with the main electronics control board. A scan-axis encoder strip is needed for the Carriage to determine its position, and a Carriage Motor which impels the Carriage via a belt.

The trailing cable is held in position by a plastic holder, which clips onto the scan axis structure. A spring-loaded loop ensures follow-up action of the cables with the Carriage movement. Two plastic cable sliders are also placed to ensure minimum contact of the trailing cables with the scan axis structure. The plastic sliders are greased to prevent ink spray (aerosol) deposits from accumulating on them, generating a sticky surface which could retain the cables and then be damaged by Carriage movement.