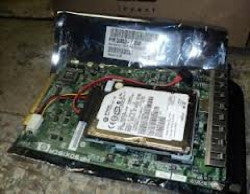 DesignJet T1100 HD | Tech Support | 260.348.5653 | Fast Delivery
Fix Your Printer Fast!




The Designjet T610 or T1100 service error 08:11 are a common error for these printers.
Regretfully, HP did not engineer this error code to specifically identify the part that is defective.
To HPs credit, they did engineer later models to provide more detail feedback.
Here is the frustration, the 08:11 service error requires a 'best guess' approach.
The defective part may be one of the following:
1. Defective Hard Disk
2. Defective Formatter Board
3. Defective Main Board
4. Defective Fan
5. Defective Control Panel
Replacing the HD and\or Formatter Board is easiest to trouble shoot.
Replacing the Main Board and\or Fan is time consuming with dozens of screws to remove and reassemble.
I can't personally confirm the Control Panel fixed it. Never got to #5 on the best guess list.
Watch this youtube video to demonstrate how to remove and replace. One of the easiest parts to replace ever.





Due to the fact that installed disks are married to the printer via serial number,
no returns are accepted on the sale.