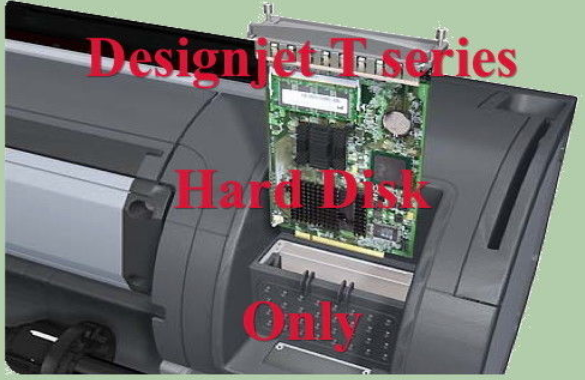 Designjet T2300 Hard Disk HD | Tech Support | 260.348.5653 | Fast Delivery
Easy Fast Fix



The Designjet T790, T795, T1300, or T2300 service error 08:11 are a common error for these printers.
Regretfully, HP did not engineer this error code to specifically identify the part that is defective.
To HPs credit, they did engineer later models to provide more detail feedback.
Here is the frustration, the 08:11 service error requires a 'best guess' approach.
The defective part may be one of the following:
1. Defective Hard Disk
2. Defective Formatter Board
3. Defective Main Board
4. Defective Fan
5. Defective Control Panel
Replacing the HD and\or Formatter Board is easiest to trouble shoot.
Replacing the Main Board and\or Fan is time consuming with dozens of screws to remove and reassemble.
I can't personally confirm the Control Panel fixed it. Never got to #5 on the best guess list.
Watch this youtube video to demonstrate how to remove and replace. One of the easiest parts to replace ever.




Due to the fact that installed disks are married to the printer via serial number,
no returns are accepted on the sale.



Feedback from satisfied customers:


Aug 14, 2015, Frank Hirsch (w*@verizon.net):
This is my second purchase from Tom. Thank you for having the right parts at a reasonable price.

Aug 17 2015,Sharon (S*@Donaldfloors.com):
Tom was awesome! We needed this part right away and he went out of his way to help. We went back and forth on the shipping method-and he was very patient for me. Also, gave us tips as to why our cards kept getting ruined. I would definitely deal with Tom again.

Mar 27, 2015,Steve Wilke (steve.wilke@lmg.net):
Great service, quick shipping. What more can you ask for! Will reach out to Tom for future designjet plotter issues.

Sep 2, 2015,Mircea (t*@spectrapremium.com):
TGood price, quick service, great support. Tom was very knowledgeable and helpful in identifying the problem and recommending the correct solution. The board worked perfectly and our plotter was back in business in the minute following the card installation. This is definitely the first place I'll call in the future for any problem with HP devices …

Sep 23, 2015,Rob Lint (t*@yahoo.com):
Excellent service, prompt shipping, fair prices, plus plotter was up an running in no time, what more can you ask for? Tom will be the first person I contact for future plotter part purchases.

Sep 24,, 2015,Colin Trocha (c*@dsi-group.com):
TTom was a huge help. Our IT guy said that this machine was outdated and just to buy a new one which is around $4,500-$6,000. I reached out to Tom for help due to the 05:10 error and he told me to replace the formatter board. Easy plug an play, less than a 5 min fix and it is back up and running like it should for less then $300! Thank you very much Tom!.

Oct 31 2015, Jan (j*@contractingfl.com):
Could not have been easier. Worked great. Just plugged it in. I will keep your information on file in case I ever have problems with my plotter again. Thanks again.




If you are getting a 08:11 Error Code -- You Must Replace Your Formatter Board!!



A 08:11 error on the front panel of the printer indicates a formatter card failure. This issue usually does not require on-site service, as the formatter board is a user-replaceable part. 

THIS PART REQUIRES THE RETURN OF YOUR DEFECTIVE PART. 


THIS ITEM REQUIRES A $100.00 REFUNDABLE CORE DEPOSIT IN ADDITION TO THE PURCHASE PRICE.
I cannot ship your part until the core deposit is paid.

When your defective part is delivered to me, your deposit is returned.

I will send an invoice thru Paypal for the deposit and email you a copy. If you prefer paying with a credit card, there is a secure link in the email that will redirect you to making a cc purchase. I will follow up with tracking information when deposit has been received. A return shipping label will be included in the box (USA customers only).
If you do not want to pay the deposit

, please send the defective part to:
Tom Bush
8331 Waterswolde Lane
Fort Wayne, IN 46825
USA
I will send the new part upon receipt of part or tracking info provided via email.
* Designjet Formatter Boards One Year Exchange Warranty Terms & Conditions